Toine Horvers & Jo McCambridge
Portraits – twelve audiovisual encounters of people in
Rotterdam (the Netherlands) and Melbourne (Australia)
12 februari t/m 7 maart 1998
Portraits consists of twelve telephone conversations, in each of which a person in Melbourne speaks to another person in Rotterdam, starting from slides which they themselves have taken, and in full view of which they sit down at the same moment.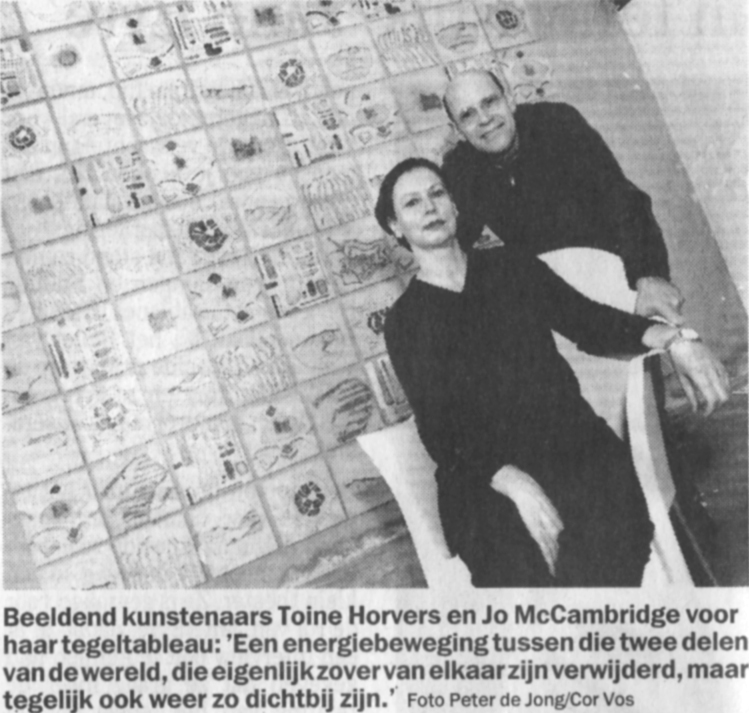 Toine Horvers – Jo McCambridge
Hardly had Horvers' and McCambridge's previous duo-presentations at HET PLAFOND (Names, axial sections of the brain and Poplar wooden panels with pyrography respectively) ended, when JoMcCambridge left for Melbourne/Australia, to prepare a solo exhibition there. Horvers staying behind in Rotterdam, they decided to establish a new project, linking Rotterdam and Melbourne: Portraits.
Rotterdam – Melbourne
In spite of the fact that most white Australians have a European background, there still exist cultural differences between them and us. In order to try to perceive  something of those differences in a simple manner, McCambridge and Horvers presented twelve people in Rotterdam and in Melbourne with a slide film, with the instruction to photograph ten clearly described subjects out of their own daily surroundings. During each telephone conversation, the slides from both speaking parties will be shown simultaneously in both locations.
The slide-projections serve as a background and a departure point for the conversations, which will take up approx. 20 to 40 minutes. The sounds from the telephones will be amplified on both locations. Guus Vreeburg, art historian in Rotterdam, will conduct the talks; he is assisted by Toine Horvers, artist in Rotterdam. In Melbourne, Rotterdam-based artist Jo McCambridge will attend the talks.
These conversations will be held during four weeks, always on Thursday, Friday and Saturday at 6.30 pm Melbourne time – the end of the day there – which corresponds to 8.30 am Rotterdam time – the beginning of the day here.
You are cordially invited to attend one ore more of these sessions.
The Rotterdam location (HET PLAFOND, Gedempte Zalmhaven 761) is situated near the Northerly approach to Erasmus Bridge, and can also be reached by metro and streetcar (both stop at Leuvehaven).
Portraits is part of a project by artists' initiative h. in Melbourne, which focusses on the interaction between artists in Australia and in the rest of the world.
NB: From February 19th through March 25th 1998, drawings by Toine Horvers are exhibited at Galerij Erasmus at the Medical Faculty of the Erasmus University Rotterdam.
Programme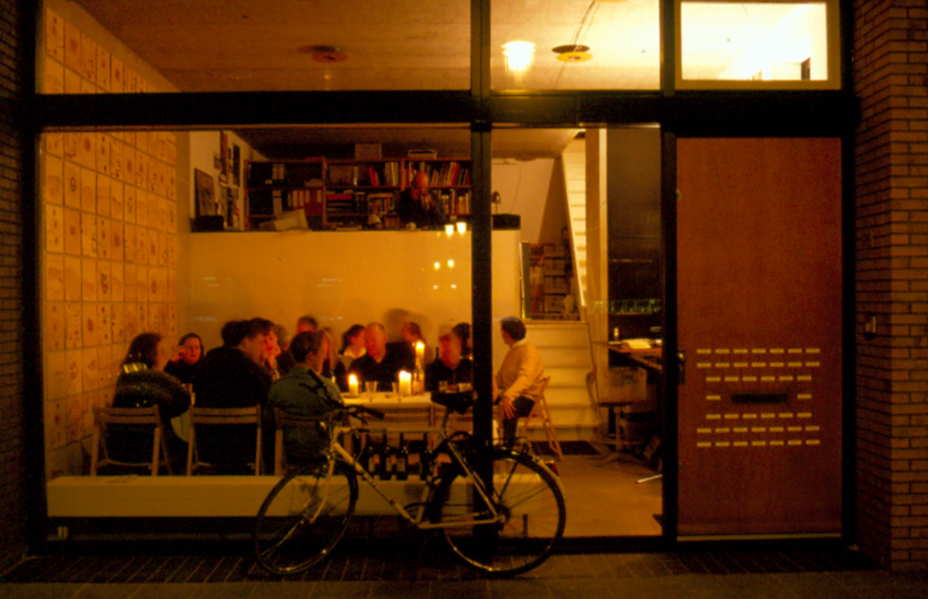 February 
12    Marcelle van Bemmel – Christine Rogers
13    Maarten Struys – Virginia Kneebone
14    Jefke van Kerkwijk – Cath Clover
19    Matthijs Muijen – Kim Donald
20    Erik Ruttgers – Angus Blackburn
21    Agaath Rosekrans – Andrew Laird
26    Ton Pompert – Shaun Kirby
27    Marianne Smits – Catherine O'Reilly
28    Niki Koch – John O'Neil
March  
05    Kees van der Knaap – Rose Lang
06    Ivo van den Baar – Jason Smith
07    Liliane van der Velden – Marrilyn Gates
An example: Friday February 12, 1998 – a conversation between Maarten Struys (Rotterdam) and Virginia Kneebone (Melbourne)